Widdop and Co's Autumn/Winter collections will be unveiled at the company's The Greatest Show which takes place From Tuesday July 2 – Friday July 19. The showroom will also be open on Sunday July 14th.
Brand new additions across all major brands will see the revitalisation of best-selling collections such as Petit Cheri, Best of Breed and Disney (where new ranges will be unveiled).
Elsewhere in the collections, Hestia and Home Living will be unveiling new looks and clock collections: Hometime, Wm Widdop and Rhythm.
Visitors will be treated to lunch and refreshments in the company's Celebrations café. There will also be a chauffeur service to and from train stations, airports and Home & Gift in Harrogate, as well as exclusive access to promotions, special offers and a 'Buy Now, Pay Later' scheme.
There will also be daily workshops to help customers get the best out of the company's improved new website.
To reserve a place at the show, call the sales office, or book via one of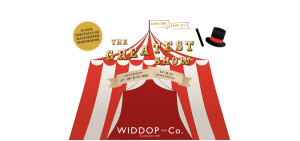 social media channels. All visitors will also receive gift hamper. Visit www.widdop.co.uk