Whoops of joy, a dance round the office and happy tears were just some of the ways that this year's Greats 2019 finalists reacted to yesterday's exciting news that they had made the finals of The Greats Gift Retailer Awards.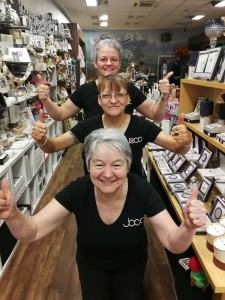 "OMG I've just burst out crying! I'm so happy!" exclaimed Jo Williams, owner of Joco Interiors. "Now I'm bouncing around like tigger!". At Mooch on St Giles Street and Mooch Bell in Northampton, Rachel and Paul Roberts enthused: "Awesome! This has made our day – we're so thrilled. Dances round the office! We can't wait to tell the team. They're going to be chuffed to bits!"
In London's Covent Garden, Rob Perry, manager of the Royal Opera House's Gift Shop, was "absolutely thrilled!" while over in North London, Louise Rolfe, owner of The Present Shop in Barnet, told GiftsandHome.net: "We are absolutely over the moon. What an honour! We love our shop and it is so exciting to be recognised in this way."
Also delighted to see their shops make the shortlist were Jon May and Luke Jacks at Mooch Gifts and Home who have stores in Bewdley and Stourport on Severn: "Such exciting news, this has certainly brightened up our day!" Jon enthused. Meanwhile, at The Baobab in Reading, Rachel Loubser too, was overjoyed. "What a fantastic news! Can't stop smiling!!"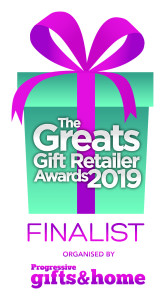 The winners of the Greats Gift Retailer Awards 2019 will be announced at London's glittering Grosvenor House Hotel on Park Lane, on Wednesday May 15, with all strands of the gift industry invited to share in this very special day for gift retail.
 Tickets to the event are available from event organiser Clare Hollick e: clare@createvents.co.uk; tel: 01183 340085. To read more about being at the hottest ticket on the gift industry's calendar, visit http://www.thegreatsawards.co.uk/tickets/
The event is currently being highlighted online via twitter.com/prog_gifts, and #Greats19.
Visit www.thegreatsawards.co.uk
Top: Winners of The Greats Awards 2019 will be announced at London's Grosvenor House in May.