With Brexit in meltdown, it's not only holidaymakers who are wondering what happens to their passport if there's a no deal Brexit. It appears that British teddy bears too, will need to change their passports from burgundy to blue if and when Britain leaves the EU.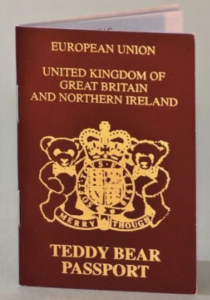 At Merrythought, Britain's only remaining teddy bear factory, replica passports are one of the most popular accessories for its collection of bears, with managing director Sarah Holmes confirming that the company is currently preparing for a return to a blue British passport.
Merrythought has already unveiled a suggested passport for its bears, and will adapt the design according to the final version published by the Passport Office.
Currently, the company sells a replica European Union United Kingdom of Great Britain and Northern Ireland passport, complete with identity pages, visa pages for stamps and notes for the bears' travels.
"This is a fun accessory for our Merrythought bears, and it is particularly popular with children, and customers who like to travel with their bears," explains Sarah, who is the great-granddaughter of Merrythought founder W G Holmes. "We love the idea that our bears inspire the imagination. Going on adventures together is a big part of that. It's why we also like to encourage travelling with our teddy bears. The passport is a great way of keeping a special memento of those adventures."
The firm's teddy bears are still handmade by a skilled team at the original factory in Ironbridge, Shropshire, with Merrythought celebrating its 90th anniversary next year.
Top: Well travelled Merrythought teddy bears will have to have a new passport if and when Britain leaves the EU.