With 'gift experiences' arguably the fastest growing segment of the gifting industry, and fragrance reported to be the most popular gift in beauty, British brand Floral Street, which recently launched a range of home fragrancing giftware, has unveiled Scentschool In A Box.
Responding to the shift in customer shopping habits, founder Michelle Feeney says that scent immerses senses in colours, smells and relatable words, and educates on the art of fragrance and provenance of sustainable ingredients from around the world. A code in the box leads to a video featuring Michelle, with interactive 'rub and release' ingredient cards offering a tease of eight, mood enhancing vegan fragrances from the company's Discover set, to include Wonderland Peony, Arizona Bloom and Wild Vanilla Orchid.
Earlier this yar, Floral Street expanded its award winning collaboration with the Van Gogh Museum. The company introduced two ethical scented home fragrance collections inspired by the artist's iconic Sunflowers 1889, as well as Van Gogh's Almond Blossom 1890 masterpiece.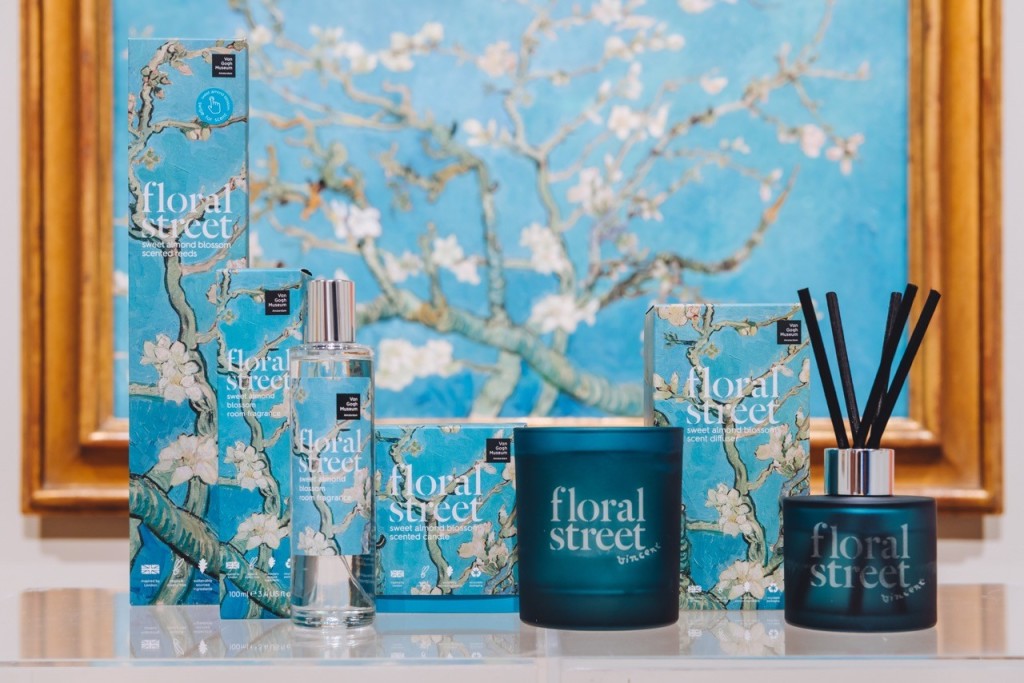 The move followed the success of the Museum's first fragrance – Sunflower Pop – which won Best Brand Licensed Health & Beauty Product or Range at the B&LLAs 2022 earlier this year.
The ranges include candles with vegan wax made from sustainably sourced rapeseed and coconut oil, and unbleached cotton wicks; naturally derived vegan oil diffusers; 100% plastic free scented reeds and non-toxic, alcohol-free room fragrances. All are presented in exclusively designed FSC certified recyclable packaging.
"So many loved our bright and happy Sunflower Pop fragrance, that they wanted their homes to smell like it too," explained Michelle. "But this time we were also inspired by Van Gogh's Almond Blossom, creating two different facets of his masterworks. Van Gogh brought the plants to life visually and we have brought them to life in our clean fragrances."
Top: Floral Street's Scentschool In A Box.