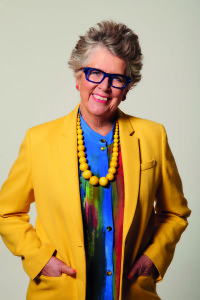 Among the familiar faces at Spring Fair earlier this month was Prue Leith CBE, restaurateur, cookery writer, novelist and currently, a much loved judge on the Great British Bake Off.
Having released a brand new cookbook Prue, her first for 25 years, Prue was at the show to enthusiastically kick off her first ever licensed products – two calendars and two diaries entitled Prue – featuring recipes and illustrations from her long awaited cookbook.
Giftsandhome.net talked to her about her new licensing venture, with Prue also happy to share her views on gift buying, jewellery and, of course, The Great British Bake Off.
Prue, having accomplished so much in your stellar career, are you a savvy gift buyer too?
"No, not at all! In fact, I'm terrible at gift buying. However, fortunately my husband John Playfair is a brilliant gift buyer. He's an online shopaholic, and doesn't wait for Christmas to buy friends and family gifts. He constantly gives presents to everyone whenever we see them. However, of course I do buy gifts for John, the best one to date being a King Charles cavalier puppy."
Do you have an example of John's recent largesse?
"Absolutely. We had a lunch party at home the other day, and I discovered John wrapping up long shoe horns for our guests, who are all getting on a bit, enabling them to put their shoes on without bending their knees. However, for one younger guest, he chose a kitchen gift, a boiled egg topper, with everyone happily going home with a goody bag."
What was the best gift that John has bought for you over the years?
"It's not one particularly gift as such, but a never ending stream of really good earrings and necklaces. We're fortunate to do a lot of travelling, and wherever we go, we shop in the local markets. Although I've got enough jewellery to last me for the rest of my life, and for all of my daughter's lifetime, John always manages to find something that I haven't seen before, such as an unusual shape or colour. The items are always genuine, made by local artisans and skilled craftspeople, so it's never jewellery that's been mass produced in the Far East."
Where did your love of big, statement jewellery come from?
"Well I'm tall, so while I think dainty, pretty jewellery looks lovely on smaller people, I have always preferred larger pieces. People began commenting on my jewellery, so it's become my trademark, along with my colourful glasses. However, now that I'm on TV, I have to try to persuade the sound man to let me wear earrings. Unfortunately, they can be a bit distracting as they make a noisy clunking sound!"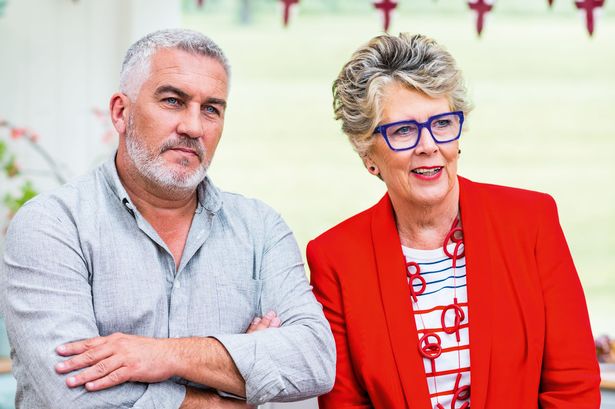 Talking of TV, are you enjoying being a judge on The Great British Bake Off?
"I am. It's such a lovely programme to work on. Love Productions, who make the show, are a fantastic company and are lovely to the bakers, giving them time to make their bakes. No-one interferes with them. For example, the cameramen aren't allowed to go over to them and say 'sorry I missed that shot can you do it again please'. Occasionally Paul Hollywood and I interrupt them, but if we can see it's a stressful moment then we move on. And one thing I love, that is very different to the American version which is screened on Netflix, is that the Bake Off contestants genuinely like each other. Plus, Paul is absolutely lovely to work with, and Sandi Toksvig and I are great friends."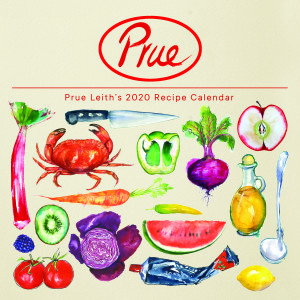 With your new licensing venture with Portico Designs, can you tell us about Prue Leith the businesswoman?
"I've always really enjoyed the business side of things. When I started out, I went into the kitchen because I didn't want to work in an office. But as I grew the business, other people took my place in the kitchen and I found myself in the office doing the buying and the selling and I loved it. I got a huge buzz from looking at the profit and loss accounts and realising what we had achieved in terms of making a profit, and that the salaries I was able to pay my staff enabled them to feed their families. It gave me an amazing feeling of 'we did that'. So getting into licensing, and working with Portico Designs on the calendars and diaries, fulfils my ambition to get back into the business side of things. Although it won't make us a fortune this year, hopefully it will build as the years go on."
What was your impression of Spring Fair?
"Walking through the halls, what really impressed me was that there was such an incredible array of product, and that behind every product there was such a huge production process. It re-enforced to me that we are a nation of doers, and that so many successful businesses start at the kitchen table."
Top: Prue Leith with Charlie Czul, sales director of Portico Designs, at Spring Fair earlier this month.