An exciting date for the diary! Building on the success of the inaugural The Gift Awards, which took place in May this year, the Awards, which bring together the Gift of the Year with The Greats, will be back at the glittering Royal Lancaster hotel in London on 11 May, 2023.
At the lavish, black tie event, both gift product excellence and gift retail prowess will be recognised and rewarded.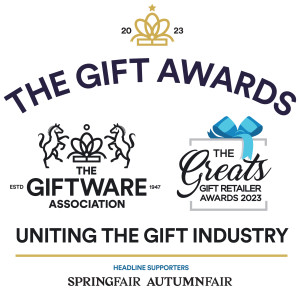 "The Gift of the Year Awards entries are open already and I am thrilled to see so many making the most of the early entry, which gives them access to so much more PR and marketing activity," says The Giftware Association's ceo Sarah Ward. "We are also looking to increase our prestigious judging panel. For the 2022 Awards we had over 70 industry judges working with us to determine which products should be crowned. This year, we are set to reach 100, and the calibre just gets better and better. Anyone interested in becoming a judge for Gift of the Year 2023, can find out more on www.giftoftheyear.co.uk/judging or by emailing chris.workman@ga-uk.org."
Adds Sue Marks, editor of Progressive Gifts & Home/GiftsandHome.net: "Following on from such a successful Gift Awards in May, it is very exciting to be looking forward to next year's event, and to the 21st year of the prestigious Greats gift retailer awards which have become the retail gold standard in our industry. The competition will be announced in early Autumn, and we look forward to another bumper entry across self-nominations and nominations from the gift industry at large."
The ownership and running of the Gift of the Year Awards remains under the stewardship of The Giftware Association while The Greats gift retailer awards are wholly owned and run by Max Publishing (publishers of Progressive Gifts & Home magazine/giftsandhome.net).
Visit www.thegiftawards.com | www.thegreatsawards.co.uk | www.giftoftheyear.co.uk
#GiftAwards23
Top: The winners of the 2022 The Gift Awards – both the Gift of the Year and The Greats – are shown on stage with their trophies at the Royal Lancaster hotel in London.