The Sustainability in Licensing Conference (SiLC) 2023 has 'topped even last year' according to attendees, who hailed last week's Conference as "the most amazing, inspiring, and engaging industry event ever attended."
SiLC returned to the Royal Geographical Society in London last Wednesday, (8 November), to an auditorium of 200 in-person guests, and an online audience of 100 delegates, who witnessed this year's proceedings via the live-stream platform.
A jam-packed agenda filled with informative and inspiring discussions – ranging from the legislative changes impacting retail and manufacturing now, and in the future, to the innovative new systems emerging across supply chains to reduce impact and encourage better circularity – featured some of the biggest names in brands and retail, including the LEGO Group, Mattel EMEA, The Walt Disney Company, Asda, Tesco and Primark.
It was both an agenda and speaker line-up that didn't fail to delight audiences who have been vocal about the level of learning and information passed on within the space of a day.
Posting on social media, Paul Dearlove, a toy industry consultant, now working with the non-profit educational platform Wastebusters, was left "still buzzing" from the event he has billed as "the most amazing, inspiring and engaging industry event I've ever attended. I cannot recommend this annual event highly enough."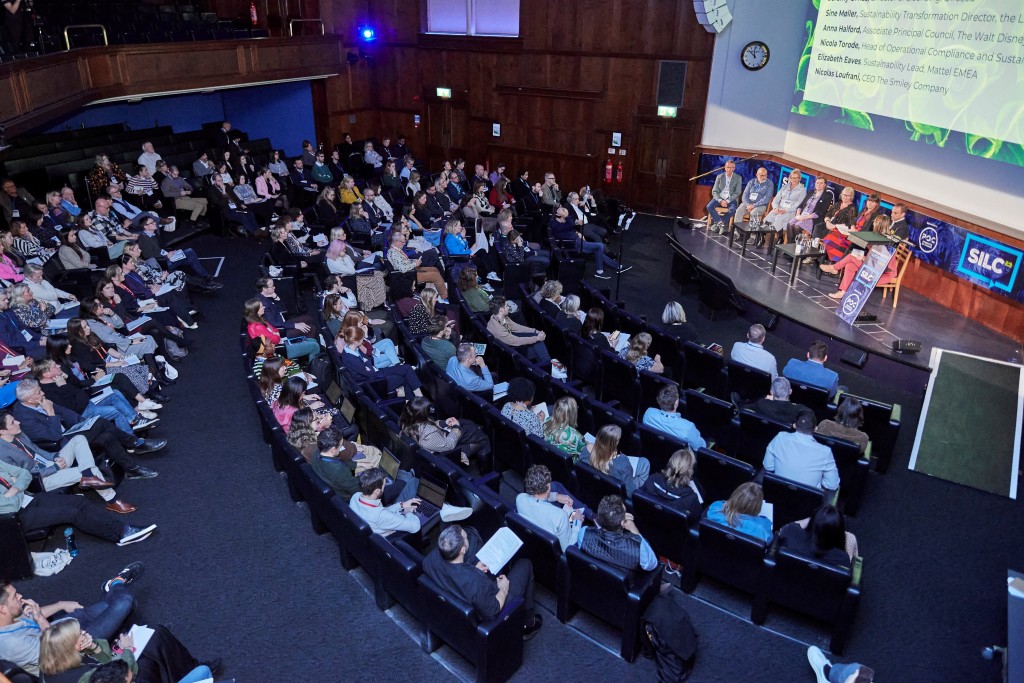 Audience numbers included a mix of licensors and licensees, cross-sector professionals, and retailers who engaged with the Conference's overarching message of collaboration to drive positive change across the $340bn global brand and licensing business. Responding to the day's collection of speakers from within the licensing industry, the retail sector, and climate action education space, attendees left feeling energised over the positive steps they can now begin to take to effect change across their own operations.
Tina Salt, founder of MAI Clothing, an ethical clothing brand, on a mission to 'make animals important', said: "What an amazing day. The content was so good, I think it even topped last year (which was also incredible). I learned so many things and my 'to-do' list has now got longer. If you are a retail business wanting to be more sustainable and make changes then check out Products of Change – a community of people all wanting to make change for a better world. The more we collaborate and share, the quicker we can fix things. The world is breaking and we all need to get on this mission quickly. We can do this."
As well as giving a platform to an array of pioneering and innovative new technologies and systems, the event also played host to candid discussion around the hurdles being faced by the industry in making sustainable development a reality for the many businesses it touches. This included the financial demands of sustainable transition, and the roadblocks and red tape within the licensing sector that need to be surmounted.
Helena Mansell-Stopher, founder and ceo of Products of Change, said: "SiLC 2023 exceeded all our expectations. The energy in the room was phenomenal as the worlds of sustainability and our wonderful brand licensing and retail industries met in ways like never before. The connections and collaborations that were made will positively impact industry over the next year – how exciting it that? I cannot wait to see what SiLC 2024 will bring. And yes, we have already begun the planning."
The Sustainability in Licensing Conference will be making its return in 2024 with a date to be announced in the coming weeks. Those who missed the event this week can still watch it all via the online platform and can purchase their tickets here.
You can also view images from the event by clicking here to access the dedicated photo gallery.
Top: Helena Mansell-Stopher, founder and ceo of Products of Change, is shown on stage at last week's SiLC Conference.