What was your original career plan 'A'?
"To be a pop star! As a 15 year old schoolboy back in the '60s, I was already playing five nights a week in a band called The Origators Creed."
Were you successful?
"Definitely! We were topping the bill by the time I was 16, with Joe Cocker second on the bill to us. It's my claim to fame!"
Which other big groups did you work with in those heady days?
"We played many gigs where we supported the Cream, Rod Stewart, Ronnie Wood, Pink Floyd and Wilson Pickett."
Sounds like it was all going brilliantly! What made you switch careers?
"After five years, my parents, both academics, decided it was time I got a 'proper' job, so I took the decision to go into sales, something I was effectively doing already with the band. I started out with Campbells Soups, subsequently joining Johnsons Wax which sold polishes."
How did you get into the gift trade?
"It was during the miners' strike in 1972. I kept getting asked if Johnsons Wax sold polishes. They didn't, but it gave me a good idea. I was young, entrepreneurial and willing to take a risk, so Candlelight Products was subsequently born in a barn, rented our to me and a friend, Ray, at £3 a week by someone my mother knew. Four years later, I became an importer, moving from candles into giftware."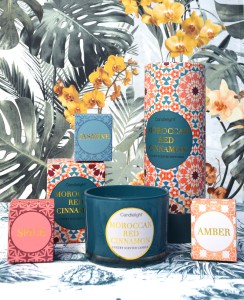 It seems like the company has gone full circle this year, with the launch of your own brand candles. Can you tell us more about the collection?
"We've decided to go back to our roots with this collection of candles. Candlelight is a fantastic name, so last October, we decided we had the people, the skills and the infrastructure to make our own branded candles work for us. We launched them at Spring Fair, and the take up was so phenomenal that we will be doubling the range in 2019. Candles give us a massive growth opportunity and we're aiming to become a very significant player."
In addition to your Autumn Open Weeks, currently taking place at your showroom in Rotherham, where else can buyers see the new candle collection?
"We will be showcasing them at Harrogate Christmas & Gift taking place at the Harrogate Convention Centre from January 13-16, 2019."
Top: Candlelight's founder Mike Winch is shown in the company's showroom in Rotherham.