In the run-up to the Christmas selling period, where trends lead the way for gift retailers, analyst Phil Pond of trends forecaster Scarlet Opus, a keynote speaker at the recent London Stationery Show, says that Imperfect Beauty will be a mega trend, set to peak in saturation in 2021. "It will last until 2022 and beyond and start to emerge this winter," states Phil. "Its focus will be to celebrate imperfections and disasters," he explains.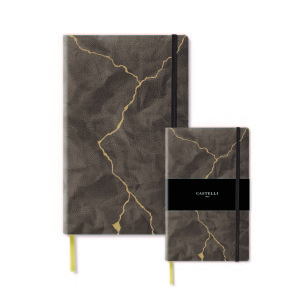 The trend is defined by two key elements: wabi-sabi, a Japanese philosophy about finding beauty in the imperfect. The second is kintsugi, which focuses on damage made good, the appearance of a crack that has been filled with precious materials – something that can already be seen in gift stationery products.
"It's a perfect trend to get people talking," says Phil. "With the increase in artificial intelligence (AI), it's good to see imperfection, products made by a human for a human. It's about celebrating errors and mistakes and making them obvious rather than hiding them. With the world in disarray for the past 10 years we are going to see a search for beauty in the disorder. People will be searching for truth and want to embrace realness. On the catwalk, it can be seen in threadbare panels in clothes, asymmetrical hems and loose yarns."
Top: GiftsandHome's editor Sue Marks is shown at the recent London Stationery Show.