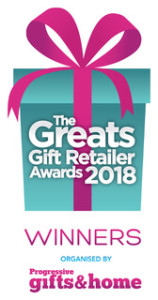 Some 400 guests – to include the cream of gift retail, leading gift suppliers, trade show organisers and gift industry reps and agents – made a beeline for the glittering Grosvenor House Hotel on London's Park Lane this afternoon (May 17) to see the winners crowned at The Greats Awards 2018, organised by leading giftware trade magazine Progressive Gifts & Home.
Taking The 'Greats' Gatsby as its theme, it was certainly a glitzy occasion, with everyone enjoying a magnificent lunch, created by the chefs at the Grosvenor House, along with stand-up comedy from award winning comedienne, songwriter and improviser Pippa Evans.
"Despite the challenges that retail throws at independents and multiples year after year, the best continue to rise to the challenge and it is these 'greatest of the great' gift retailers that we were delighted to recognise and reward this afternoon," commented Sue Marks, editor of Progressive Gifts & Home and GiftsandHome.net.
The 2018 Greats Awards winners were:
Retail Employee of the Year 2018 – Peter de la Mare, store manager, England At Home, Brighton
Independent Gift Retailer of the Year – London (inside M25) – Max and Melia, Clapham
Independent Gift Retailer of the Year – Home Counties, South and South East- Alligator Pear, Tadworth
Independent Gift Retailer of the Year – East Anglia – Love It, Bury St Edmunds and Stamford
Independent Gift Retailer of the Year – Midlands and Wales – Mooch Gifts and Home, Stourport-on-Severn
Independent Gift Retailer of the Year – North and Northern Ireland- The Gift Gallery, York
Independent Gift Retailer of the Year – South West- Brocante, Fowey
Independent Gift Retailer of the Year – Scotland- The Gift, Beauly
Independent Gift Retailer of the Year – Best Newcomer South & Wales- Josie's Bideford
Independent Gift Retailer of the Year – Best Newcomer Midlands, North and Scotland- Joco Interiors, Nuneaton
Best Specialist Multiple Gift Retailer – Oliver Bonas
Best Department Store Retailer of Gifts – Fenwick Bracknell
Best Non-Specialist Retailer of Gifts – Bookends, Christchurch
Best Lifestyle Or Homewares Retailer Of Gifts – Etcetera, Hitchin
Best Gift Retailer Of Jewellery & Fashion Accessories – Pozzi, Buckie
Best Garden Centre Retailer of Gifts – Ransoms Garden Centre, St Martin
Best Museum Or Visitor Attraction Gift Shop – ZSL Whipsnade Zoo
Best In-Store Or Window Display – The Shop At The Emporium, Clitheroe
Best Online Or  Mail Order Gift Retailer – Find Me A Gift
Best Retailer Initiative – Lulu Loves, Stubbington, for its Hygge weekend initiative
Best Service To The Independent Retailer Bronze Award Winner 2018 – Parlane
Best Service to the Independent Retailer Silver Award Winner 2018 – Widdop and Co
Best Service to the Independent Retailer Gold Award Winner 2018 – Joe Davies
Honorary Achievement Award Winner 2018 – John Athwal OBE
The photos of the The Greats awards will be uploaded to the official website by Monday May 21. Visit www.thegreatsawards.co.uk