Limited, printed preview copies of Spring Fair's much coveted The Little Black Book are now available for visitors planning to attend the show (5-8 February, NEC), who register by Sunday 8 January.
Packed with show information, insights and details of exhibitors, The Little Black Book offers an exclusive insight into this year's show, as well as a full floorplan, a snapshot of the show's highlights, a preview of the latest products and an A-Z list of exhibitors, to include lots of new names.
A fold-out floorplan gives an aerial view of the show floor, with colour-coded sector areas enabling visitors to start planning their route, with an A-Z exhibitor list helping buyers to quickly locate companies, and also identify which sector to find them in.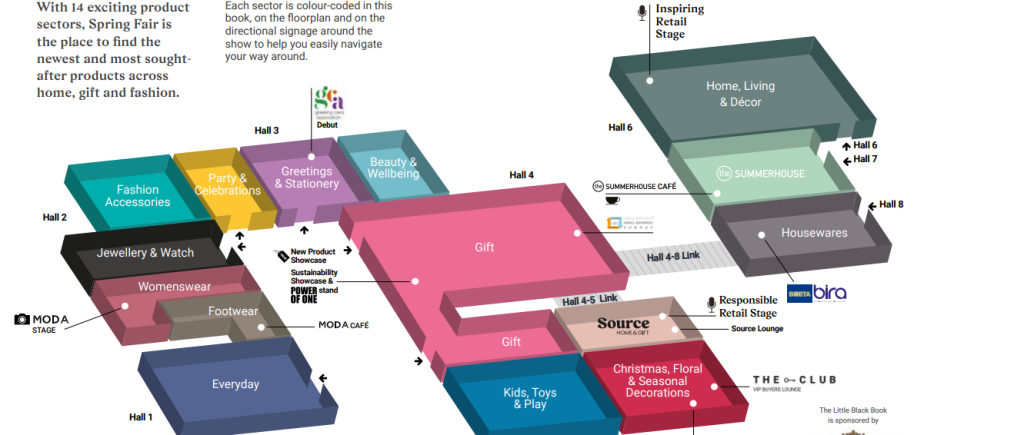 Show highlights for 2023 include the New Product Showcase, new speakers on the Inspiring Retail Stage and Moda Stage, the Sustainability Product Showcase and much more besides. Digital copies of The Little Black Book will also be sent to everyone who registers.
Spring Fair will encompass 14 sectors within four destinations across eight halls – Home which includes Living & Décor, Housewares, Everyday, and The Summerhouse, Gift including Christmas, Floral and Seasonal Decorations, and Moda fashion featuring its own catwalk as well as Jewellery & Watch, Womenswear, Fashion Accessories, and Footwear, and the newly launched responsible sourcing show Source Home & Gift.
To register for Spring Fair visit www.springfair.com/visitor-registration.
Top: Printed copies of Spring Fair's The Little Black Book are available for attendees registering by  8 January.