For the owners of Lucky & Gray in Derby, Tuesday (14 November) was definitely their lucky day, with Amber and Rich Kavanagh scooping the Best Independent Gift Retailer Award at the Progressive Preschool Awards. Over 400 industry executives attended the event which took place at London's Royal Lancaster Hotel.
"As an independent business we feel so proud to be recognised with this award," said the couple. "It's a wonderful achievement for all the hard work we have poured into creating our store."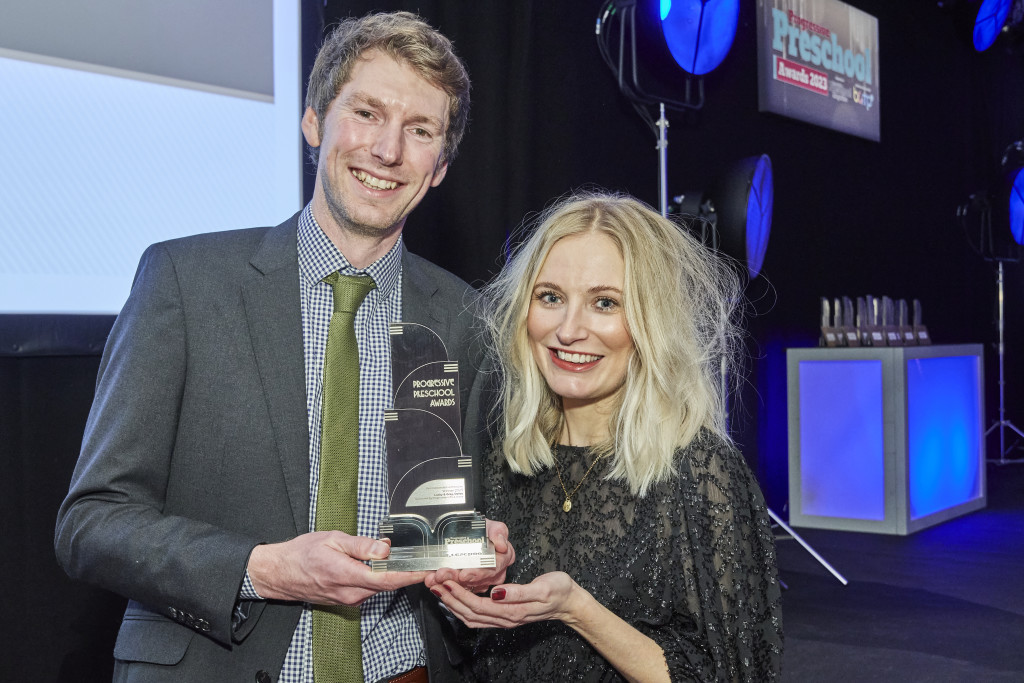 Also walking off stage with a trophy were the Rainbow Designs team, with the company winning the Best Preschool Gift Range for their Mickey Mouse Memories Range.
"We are absolutely delighted to win for this range, having worked really closely with Disney," enthused Rainbow's director of product, creative and marketing services Alys Dawson.  "We feel really proud of the range as we all know everyone shares special Mickey Memories!"
Samantha Loveday, group editor at Max Publishing told guests: "The preschool product and retail sector never eases up, it only keeps moving forward, and it only keeps growing. It's innovative and exciting and effortlessly adapts to trends.
"As in any industry, there are challenges in the road, but there is also much to celebrate. We're honoured to be a central part of the preschool industry and we thank you for being the conduits that make it possible for us to be so."
The grand finale of the afternoon saw Majen Immink, head of operations at Toy Fair, presented with the Outstanding Achievement Award.
The full list of winners of the Progressive Preschool Awards 2023 are:
RETAIL AWARD CATEGORIES
Best Supermarket Retailer
 (sponsored by Paramount)
Asda
Best Multiple Retailer
 (sponsored by Misirli)
Smyths Toys
Best Mixed Retailer
 (sponsored by Rainbow Designs)
Argos
Best Department Store (sponsored by WildBrain CPLG)
John Lewis & Partners
Best Online Retailer
 (sponsored by Aykroyd & Sons)
Next.co.uk
Best Independent Nursery Retailer
 
(sponsored by Joie)
Bambinista, London
Best Independent Apparel Retailer
 (sponsored by Amscan International)
Little Leggs, Brentwood
Best Independent Toy Retailer
 (sponsored by Acamar Films)
Treasures of Wetherby, Wetherby
Best Independent Gift Retailer
 (sponsored by GiftsandHome.net)
Lucky & Gray, Derby
Best Retailer Initiative
 (sponsored by Penguin Ventures)
Peppa Loves Jumping In Muddy Puddles with Smyths Toys
PRODUCT AWARD CATEGORIES
Best Preschool Apparel Range (sponsored by Hasbro)
Chip the Red Panda Collection from Blade & Rose
Best Licensed Toy Range (sponsored by BBC Studios

)
Gabby's Dollhouse Plush Toys from Posh Paws
Best Non-Licensed Toy Range (sponsored by Grapevine Global PR)
Janod Dino Activity Table from Juratoys
Best STEM/Educational Range (sponsored by Good Play Guide

)
50-Piece Rainbow Transport Pack from Connetix
Best Preschool Publishing Range (sponsored by Redan Publishing)
PAW Patrol Publishing Range from HarperCollins
Best Home or Furniture Range (sponsored by Media Snug)
Waffle 2 Highchair from Cosatto
Best Preschool Gift Range (sponsored by Moonbug)
Mickey Mouse Memories Range from Rainbow Designs
Best Wheeled Goods Range
 (sponsored by Harrogate Intl Nursery Fair

)
Gazelle S Lux from Cybex
Best Car Seat Range (sponsored by Vista PR)
Maxi Cosi 360 Pro Family from Dorel
Best Preschool Essentials Range (sponsored by bébélephant)
Savvy Light Baby Carrier from Joie
Best Infant Development Range (sponsored by Bump PR)
First Years Flower Stacker form Galt Toys

The Eco Award (sponsored by Poetic Brands)
One Size Organic Bamboo Bedtime Pearl Reusable Nappy from Modern Cloth Nappies
The Marketing Award (sponsored by Azaria PR
)
Peter Rabbit: 120 Years Of Mischief Campaign from Penguin Random House
What Parents Love Award (sponsored by The Insights Family)
Disney
Best Wholesaler/Distributor (sponsored by Jazwares
)
Baby Brands Direct
Outstanding Achievement Award (sponsored by Toymaster)
Majen Immink
Visit: www.progressivepreschoolawards.co.uk | #PPSA23
Top: Rainbow Design's managing director Anthony Temple is shown on stage at the Progressive Preschool Awards, together with the Rainbow team, proudly holding the award for the Best Preschool Gift Range.