To celebrate the 75th anniversary of the publication of Tove Jansson's first Moomin novel  – as well as to recognise the importance of the sea in the Moomin's universe – Moomin Characters is launching a campaign named #OURSEA.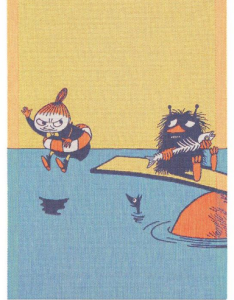 Companies, including Muurla and Ekelund, have launched a range of #OURSEA Moomin gift and homewares products and will be making donations to the campaign for every sold.
The campaign, which is aiming to increase awareness
 of the conditions of the Baltic Sea, is hoping to raise 1million euros to fund its clean up, and is working together with the John Nurminen Foundation, a Finnish maritime organisation, which wants to save the Baltic and its heritage for future generations.
Top: A Moonintroll enamel mug by Murrla. Donations from each sale made will be helping to save the Baltic Sea.