As Mamma Mia 2 gets ready to rock and roll at cinemas all over the UK tonight (Friday July 20), sisters Rona and Heather Stevenson, co-founders of clothing supplier One Hundred Stars, and owners of destination gift shop Within Reason in Sheffield, will be on the edge of their seats, thinking about their own 'mamma'!
The film's Anna Seyfried (who stars as Sophie) will be wearing one of the company's mini kimonos – Paris Valerie – named in honour of Rona and Heather's mum. "As a young girl from Yorkshire, our mum Valerie went to work in Paris as an au pair, and when Heather and I launched our screen printed kimono and scarf company in 2014 – One Hundred Stars – she gave us a crumpled map of Paris that she had kept for all those years. A couple of years later, we turned it into a kimono and named it Paris Valerie."
Continues Rona: "During the filming of Mamma Mia! Here We Go Again, we received a call from the wardrobe people at Pinewood Studios asking us to supply a mini kimono for Anna Seyfried, along with a kimono for actress Julie Walters who plays Rosie in the film. We don't know whether Julie will be wearing one of our kimonos, but we do know that Anna is, because she she is shown wearing it in the movie trailer. We're so excited about the whole concept, and are keeping our fingers crossed that our One Hundred Stars customers will reap the rewards in the coming weeks!"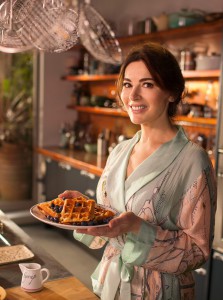 Interestingly, this isn't the first time that a celebrity has been shown wearing a kimono from One Hundred Stars. Last year, Nigella Lawson wore the company's Venice map kimono as a dressing gown on her BBC 2 TV show At My Table, with fans taking to social media to demand to know where Nigella had bought it and who the supplier was!
Confirms Rona: "The story was picked up by Loose Women as well as several national newspapers to include Daily Express." The Venice kimono was designed around the Italian city's canals
As Mamma Mia 2 hits the big screen, Rona and Heather will surely be thinking Mamma Mia! Here We Go Again, as the tills start ringing!
Top: The Paris Valerie mini kimono worn by actress Anna Seyfried in Mamma Mia! Here We Go Again. Modelling it is Analisa from One Hundred Stars.