Small business champion Holly Tucker MBE, was the keynote speaker at Top Drawer yesterday, (September 14), bringing colour and passion to the RetailFest stage during an informal, inspiring and powerful conversation with life coach Tiwalola Ogunlesi, founder of Confident and Killing It.
Speaking to a packed house, Holly looked backwards and forwards at her career, which has taken her from a job in advertising at the age of 17, to making Christmas wreaths and running local craft fairs for small businesses (having had a brain tumour and a divorce by the age of 23).
With local fairs too reliant on the weather, she decided to give small businesses a different 'roof', and, together with her former advertising boss Sophie Cornish, the two women launched Notonthehighstreet.com in 2005, with Holly founding Holly & Co. four years ago, the home of small business advice and inspiration. (During her career, Holly has inspired some 100,000 entrepreneurs).
"A true entrepreneur can be squashed by life, but then gets up and carries on," she stated."Entrepreneurs have the power to really change things."
Asked by Tiwalola what her vision is, Holly explained: "It's always been about community and feeling responsible for people.  I have been a part of so many people's journey and it's addictive. I see it as my calling in life to help people to realise their potential and lead a successful life in business."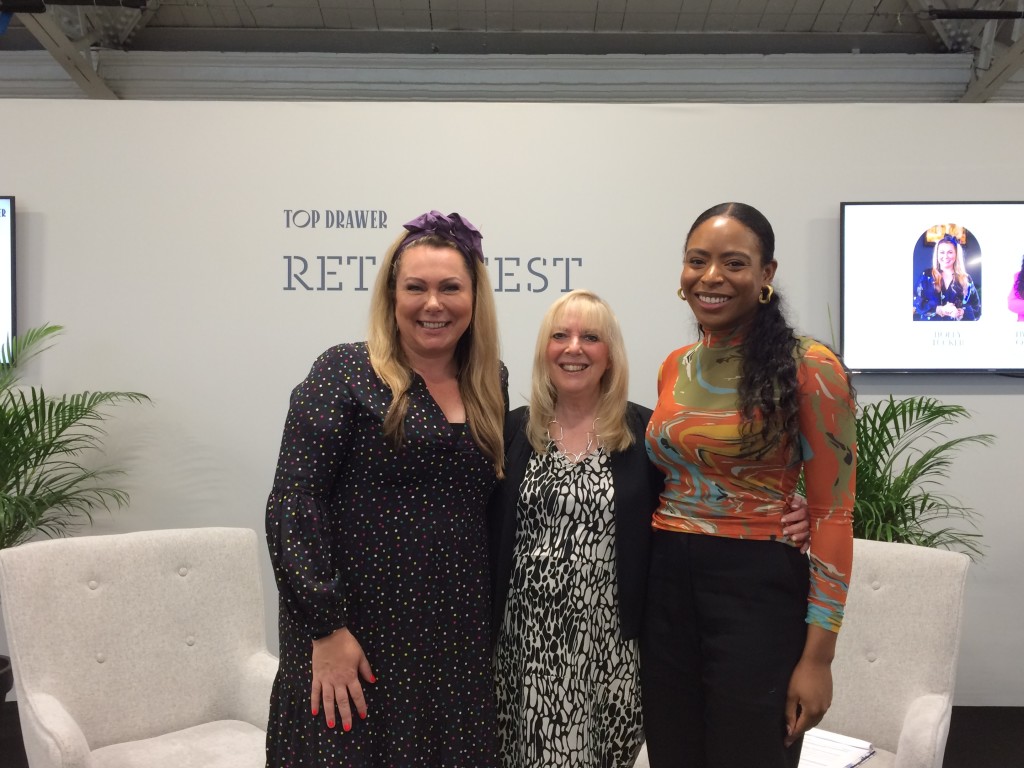 Speaking about the challenges of the pandemic, she replied: "it was unbelievable how much everyone learned. For some it was a terrible time, for others it was Christmas, But we all learned something from it. Overall, small business owners said that they would do whatever it takes. A lot of them felt a maternal instinct to their business, treating it like another child and wanting to protect it."
Speaking about her love of community, she said that small businesses in particular need to connect to their community to be successful. "There's something about connecting with other people and creating something together," she stated. "For example, if there's an empty shop on the high street, hook up with someone else and create something together. If you do interesting things, interesting things will happen to you. Even if something scares me I do it anyway because something exciting might happen."
Earlier this year, Holly's book 'Do What You Love, Love What You Do: The Empowering Secrets To Turn Your Passion Into Profit' became a Sunday Times best seller, with Holly signing copies for her fans at Top Drawer. "I've come down from Scotland to Top Drawer to meet you," one RetailFest attendee told her, while others admitted that listening to her podcasts, and 'taking tea' with Holly online during the pandemic had helped and inspired them to get through it.
She equates running your own business as the key to happiness. "You are in control," she underlined.
Asked about her many outstanding achievements, Holly told Tiwalola: "I'm 44 and I'm going to retire when I'm 90, so I feel that I still have a long way to go. I'm building a business, running my podcasts where I'm  interviewing incredible guests, and also making the most of social media. I'm constantly learning all the time. I have so much more to do, but the pandemic has taught us to live with gratitude, and to celebrate our everyday successes."
Top: Holly Tucker MBE, at Top Drawer yesterday, in conversation with Tiwalola Ogunlesi, founder of Confident and Killing It.