Ashleigh & Burwood has gone live with a brand new state-of-the-art 360 degree virtual showroom – TheHouseOfAB.com –  an immersive experience that allows retailers to view, in 3D, the company's home fragrance products including the newest editions for SS21. 
The custom built show space is designed around a beautiful home, reflecting the style and aspirations of the brand.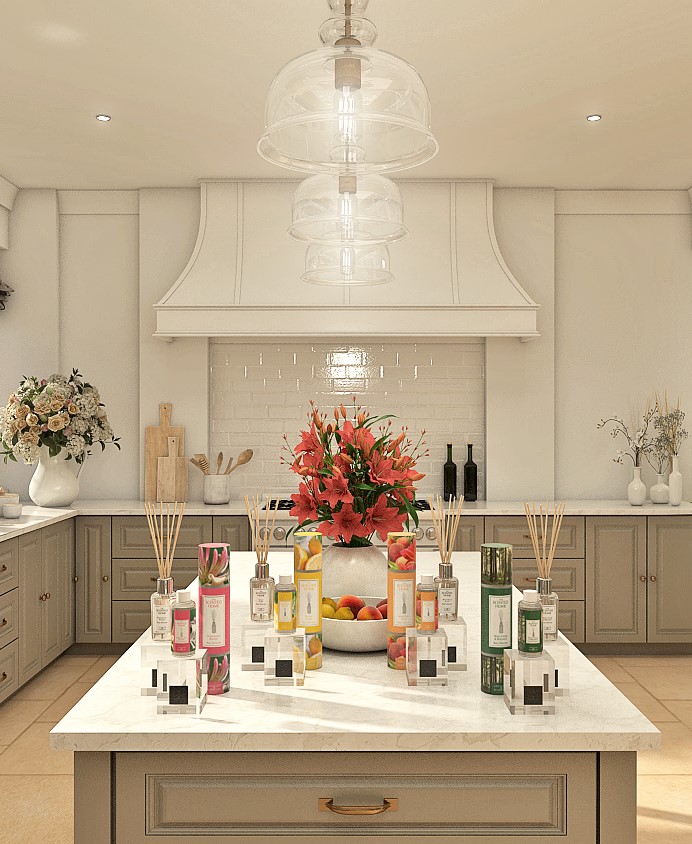 "We anticipated that retailers might be required to visit many virtual showrooms in the current climate, so we wanted ours to break from the regular conventions," explained visual merchandiser Olivia Collins who is leading the development of the virtual house.
She continued: "We set about creating something that was visually exciting and experiential. The heritage home we've created is beautiful and is the perfect environment to showcase our products."
Retailers can be taken on an arranged bespoke tour by an Ashleigh & Burwood team member on a video link within the platform.  For registered users of the Ashleigh & Burwood trade website, retailers are able to add product to their basket as they tour the virtual house.
Scent cards for the company's latest  eight fragrance launches are available on request.
Visit TheHouseOfAB.com
Top: The 'conservatory' – one of the rooms showcased as part of Ashleigh & Burwood's new virtual house and showroom – reveals an array of new launches for Spring/Summer 2021.