One of the most prestigious Greats categories each year is the special Outstanding Achievement Award, which is presented to someone who has contributed greatly to the UK gift industry.
At last Thursday's The Gift Awards, held on 11 May at London's glittering Royal Lancaster Hotel, the trophy was presented to Clare Harris, founder and managing director of Talking Tables, by Louise Hadfield, head of central services at the British Allied Trades Federation (BATF), category sponsor.
Clare received a standing ovation from guests as she made her way to the stage, with this very special award, a fitting finale to The Gift Awards.
In an extract from her citation, Sue Marks, editor of Progressive Gifts & Home/GiftsandHome.net said:
"The special individual we recognise tonight has certainly made an impact – not just in what they have achieved, but how, through their pioneering, their volition, and their big picture thinking, they have brought so many others along on their journey to make our sector, and our world, a better place.
"Our winner tonight is a born entrepreneur, someone who dreamt of starting a business from a young age, but first honed their skills in the corporate world – followed by a stint in retail – before they took the plunge to set up their own business over 20 years ago and do things their way.
"Rather than following what had gone before, their vision was to create a company which would bring joy and surprise to all those celebrating life's special moments, indoors or al fresco, with a collection of design-led products that continue to inspire and delight in equal measure."
Sue continued: "In fact, the seeds for the business can be traced back to our honoree's childhood, when they readily and regularly took on the task of picking flowers and laying the table at large family gatherings – a tablescaping pioneer before the word was even invented – going on to become a talented gardener along the way.
"However, it was a gap in the market for millennium party products that proved to be the lightbulb moment that saw tonight's winner finally leave the corporate world behind to follow their dream to start their own business."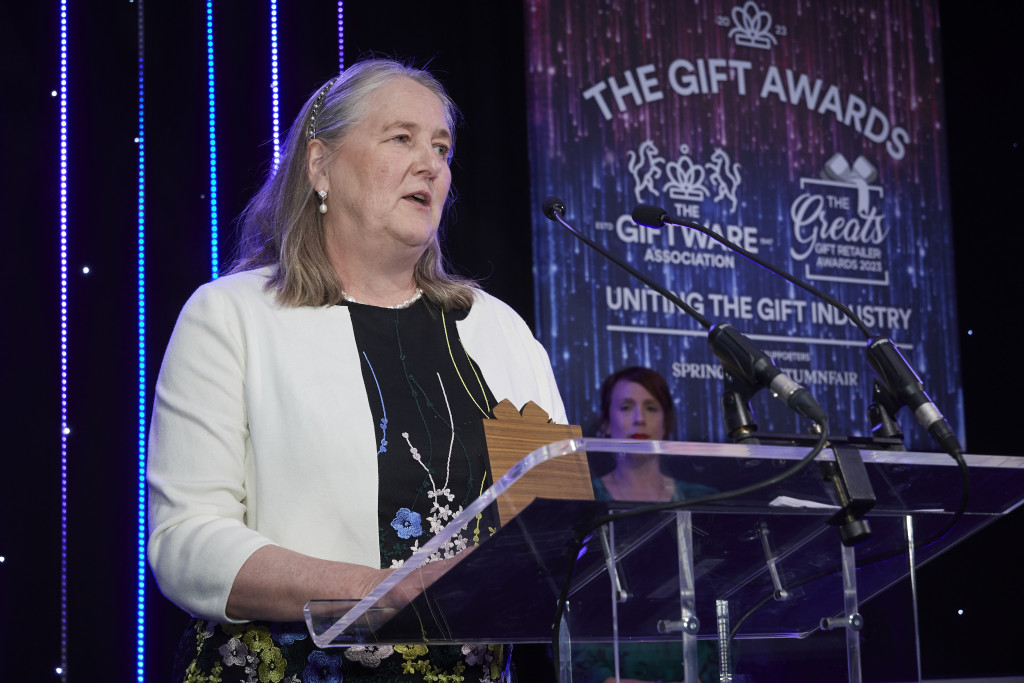 Commented Clare: "The evening at the Royal Lancaster Hotel was a wonderful celebration of the gift industry which is so vital to stop and celebrate, as we all know that the buying and giving of gifts is a fundamental part of our personal lives – sharing a moment of kindness between our friends and family.
"In addition, it drives the rationale and all our energies for the work we do on, and with, so much of the high street. I am very humbled to have been acknowledged as helping our industry in some small way. I hope I can go on and help further, as each year we all want freshness in our gift choices and within the retailers we shop at.  So, plenty more to do!"
Adds Clare: "As a shopper myself, I see myself parking more and more outside a non-typical retailer and being tempted in from a ramble to a unique style of shop, so I was delighted to see the award for the Non-Specialist Retailer of Gifts presented to Bringing the Outside In, based in Wells-Next-The-Sea.  I hope to visit it to see their work in the most beautiful looking setting."
Top: The Greats' Outstanding Achievement Award, sponsored by the British Allied Trades Federation (BATF), was presented to Talking Tables' founder Clare Harris by the Federation's Louise Hadfield at The Gift Awards last Thursday (11 May).