As the majority of gift retailers get ready to open their stores next Monday (June 15), and with Father's Day less than two weeks away on Sunday June 21, there's still time for independents to make the most of the occasion through organising both in store and online events.
That was the over-riding message from the co-presenters of the latest webinar, organised by the Giftware Association, and presented by Widdop and Co's Stephen Illingworth and Victoria Jenkins-Leigh of Autograph Events.
"For Father's Day, the focus needs to be on family, with ideas that are fun and engaging," Victoria told attendees.  Ideas included gift suggestions for a difficult dad, setting up a craft table so that children can make their dads a greeting card, product demos, a Father's Day message board, face painting, entertainers outside the shop, providing food and drink, playing live music and organising games such as Covid-19 friendly Spin To Win, Hook A Duck and a Mr and Mrs style spin off.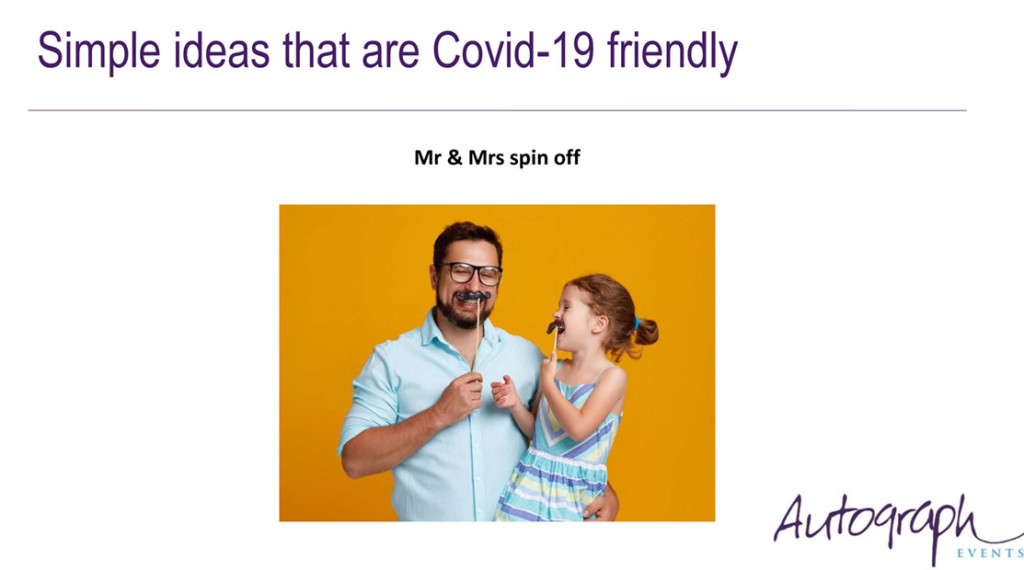 "It's the memories that people make in your shop that will keep them coming back,"Victoria pointed out. "It's all about bringing people back into store, with social media used to promote the events. There's still time to do all of these things before Father's Day, but it's crucial to get the risk assessment right as to what you can do safely. Events have to be tailored to what is possible in your environment."
Stephen concurred. "Events are about 'retail-tainment'. Millennials in particular expect more out of retail. Simply opening a store is no longer enough, with events the next layer to engaging customers. Despite the current situation, events will continue, but in a more intimate way, linking in with events online."
He added: "With shops re-opening during the week leading up to Father's Day, there's still time for retailers to get their stores ready, as a compelling experience will encourage people to come in and spend."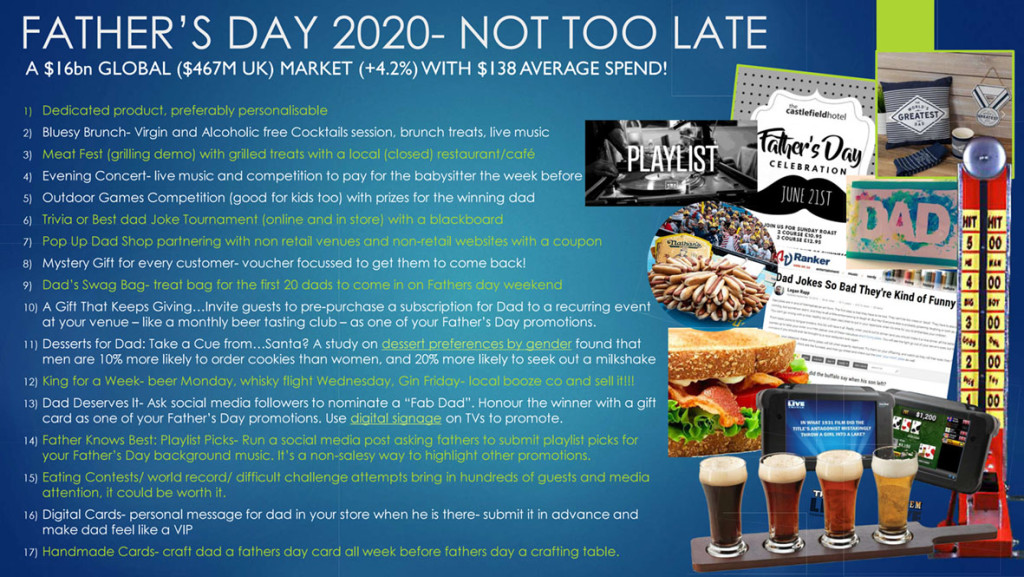 Stephen highlighted that the type of events that get people talking are those that promote FOMO (fear of missing out), with regular, in store and digital ongoing events the way forward. "You need events that will not only drive people in store but will get them to spend money with you," he underlined.
However, there's no magic wand. "You have to plan, plan, plan, especially post-Covid-19," he underlined, "but there are so many occasions to hang your hat on. To be successful with experiential events retailers are going to have to spin a lot of plates on top of the lot of plates that they are already spinning."
Ideas included offering good quality free coffee, mulled wine and hot chocolate; personalising products; making a regular item special; bundling products together; giving away a free gift to promote the shop's brand name, and running quizzes, games and webinars online.
He also suggested holding in store workshops/classes that define hobbies aligning with the shop's brand and products; making the most of celebrations/occasions; having theatrical 'pop ups'; inviting specialist guests to make a personal appearance, and offering freebies.
"Going forward, retailers will need to focus on intimate events that engage their consumers in a real life shopping experience," added Victoria. "The use of sound, ambience and emotion will get them in the mood to buy. Some 78% of millennials' spend is in an experiential retail environment, and it doesn't have to cost a lot of money. Charity shops for example, bring in cafes, or demonstrate upcycling, bringing experiences into their stores."
Her recommendations to retailers included being interactive, original, unexpected, reliable and making events personal, with planning crucial to their success.
Top: Retailers should use events such as Father's Day to create events for their customers.