Post the pandemic lockdowns, Card Factory's half year revenue has increased by 64.9% to £198m. While online sales were down year-on-year, in store revenue grew by 81.8% for the six months to 31 July, 2022, with the retailer posting a pre-tax profit of £14.3, compared to a loss of £6.5m for the same period last year.
"The pronounced shift in spend back towards stores supports our continued conviction in the value of our store estate within our customer proposition and as an enabler in our omnichannel ambitions," stated chief executive Darcy Willson-Rymer.
"During the half year, we have made good strategic progress as we focus on evolving our customer proposition across different channels and taking it to new markets."
In addition to card sales, there was a strong performance in complementary categories to include new ranges of licensed gifts.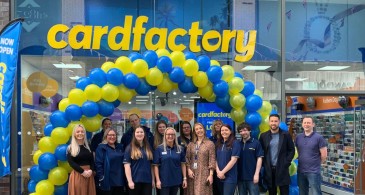 Card Factory's commitment to progress on sustainability, as well as on the diversity and inclusion fronts, was stressed in the report, with the retailer pledging that 90% of its products will be free of single-use plastic by the end of FY24. All new card and gifts produced for Card Factory are now glitter-free and, by the end of FY24, it expects to have sold through any existing stock containing glitter.
"While we remain mindful of the challenging economic backdrop as we head towards the Christmas season, we feel well placed to navigate this and retain our focus on transitioning Card Factory to a market-leading omnichannel retailer of cards and gifts," confirmed Darcy Willson-Rhymer.
Card Factory currently has 1026 shops, and is preparing for a trial click and collect service in 84 outlets.
Top: Card Factory's chief executive Darcy Willson-Rymer.