Among the companies enjoying anniversaries at the recent Ambiente show in Frankfurt were Portmeirion Group – with Spode proud to be celebrating its 250th year – and Royal Crown Derby, which has reached its milestone 270th anniversary.
Other companies at the show fanfaring milestones included Fissler (175 years), Bolsius (150 years), Graef, Jean Dubost and Silit (all celebrating 100 years), Metaltex (75 years), Gilde Handwerk (60 years), Hydas (50 years) and Dijk Droogbloemen (30 years).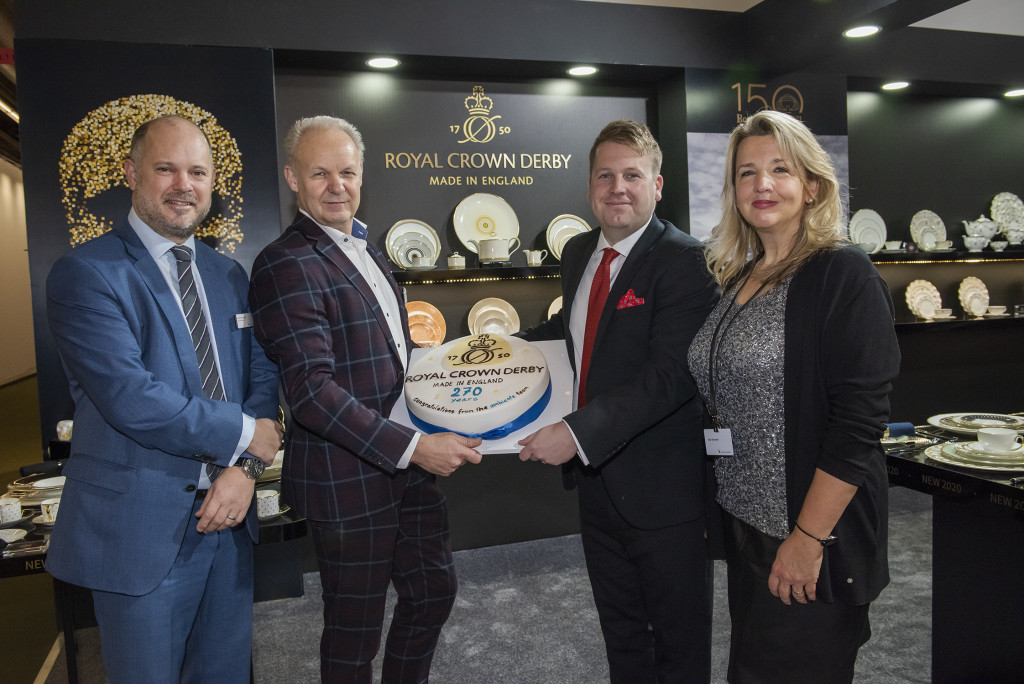 "Sometimes it's good to take time and look back in pride at the things you've achieved," commented Nicolette Naumann, vice president of Ambiente. "So we were very pleased that several of our exhibitors with anniversaries were celebrating at Ambiente this year. It was an opportunity for us to say thank you."
A Frankfurt confectioner was commissioned to make a customised cake for each of the eight companies – highlighting their individual company themes – which was presented to them as a surprise by the Ambiente team.
Top: In celebration of Spode's 250th anniversary, a cake was presented to sales and marketing director Phil Atherton (second right) by Messe Frankfurt's UK sales partner Rob Sherwood (left) managing director of Sherwood Events, Ambiente's Thomas Kastl, director Dining, and the show's Katja Glowatski, sales.