According to Ambiente's trends forecasters – design studio Stiburo bora.herke.palmisano – visionary ideas, sustainability and an appreciation for traditions will shape people's everyday life in 2022 and beyond. The trends are wide ranging, offering an overview of giving, living and dining.
"After a long period in a state of emergency, we are ready for a new beginning," says Philipp Ferger, vice president Consumer Goods Fairs at Messe Frankfurt. "The last one and a half years have fundamentally changed our social and economic behaviour, and this is reflected in Ambiente's Trends 22+."
The three groundbreaking forecasts build on previous themes, developing them further, with the + sign reflecting that the path is unfinished.
Remedy solving + clearing is a 'light living', energy giving theme, letting in the future with bio-based or recycled materials, futuristic surfaces and light, airy colours. Identity knowing + making reflects a pure and simple theme, with surfaces and materials based closely on nature. There is also a new appreciation of craftsmanship and provenance, revealing traditions that have been handed down.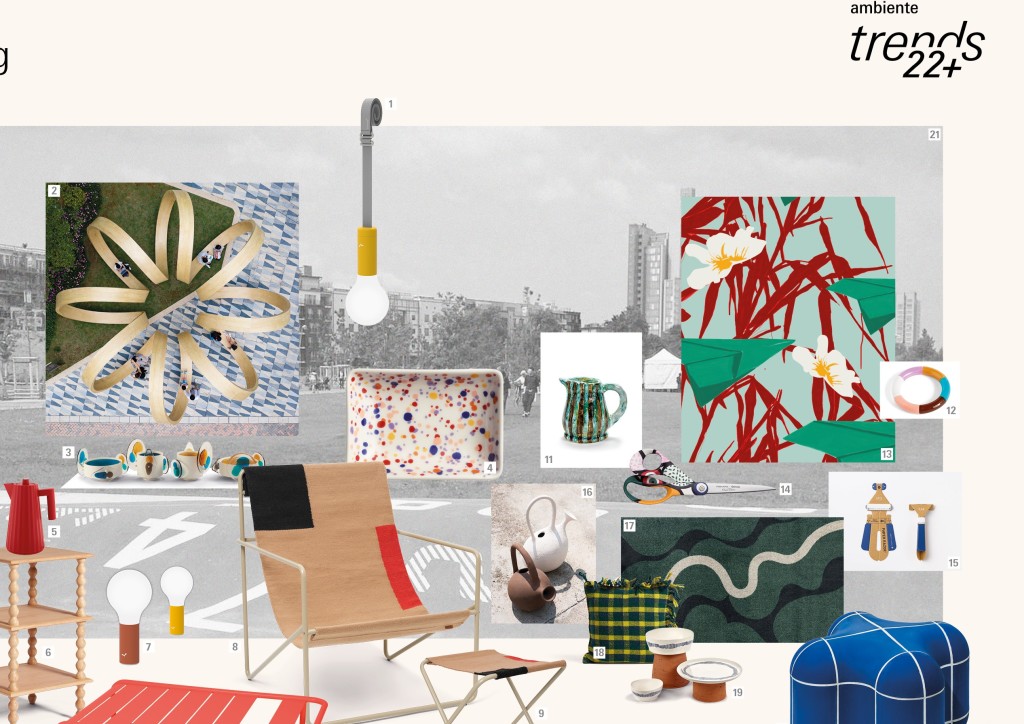 Meanwhile, giving homes a new dynamic  – and inspired by urban living spaces and a new desire for the city – is lively improving + liberating. Products reflect artistic appeal, expressive colours and mobile furniture in the living environment. The colour palette is strong, with the vibe one of positivity and optimism.
In the Trends area at Ambiente, studio Stilburo will select exhibitors' products reflecting the three theme worlds, making the trends tangible to buyers. Visit  www.ambiente-trends.com
Ambiente takes place from 11-15 February 2022. Visit www.ambiente.messefrankfurt.com
Top: Remedy solving + clearing is one of a trio of trends that will be shown in the Trends area at Ambiente in February.