Following her success at The Greats 2018 in May, Amanda Oscroft, co-owner of Love It in Stamford and Bury St Edmunds, has been made an ambassador for Stamford.
Explains Amanda: "A few days after our success at The Greats, I was in the shop proudly polishing the trophy and deciding where to reposition it, when a journalist from Stamford Living magazine popped in and asked me what I was doing. She was very impressed by the fact that Love It had won The Greats Independent Gift Retailer of the Year East Anglia category, heading off some tough local competition, and did a feature on me on the magazine's reader's page.  Then, following the article, and completely out of the blue, I received a letter saying that I had been made an ambassador for Stamford! I'm absolutely thrilled, and the catalyst was The Greats!"
Building on the shop's success at the Awards, Amanda immediately put a post on Facebook which received 80 'likes' and is also planning to put together a film about the shop's success.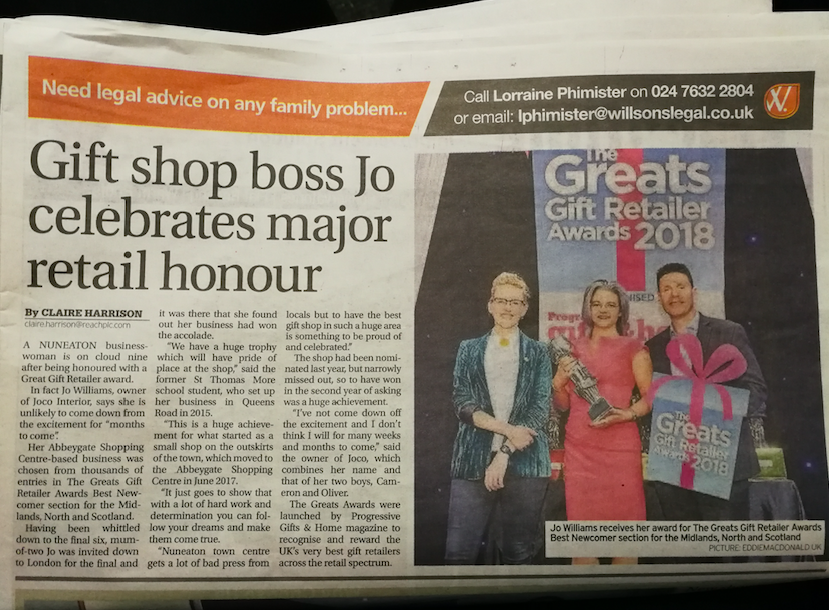 Among the other Greats winners who have seen their 'name in lights' in their local newspapers recently were Maggie Thornton, owner of Alligator Pear in Tadworth, and Jo Williams, owner of Joco Interiors in Nuneaton, with both shops receiving substantial publicity.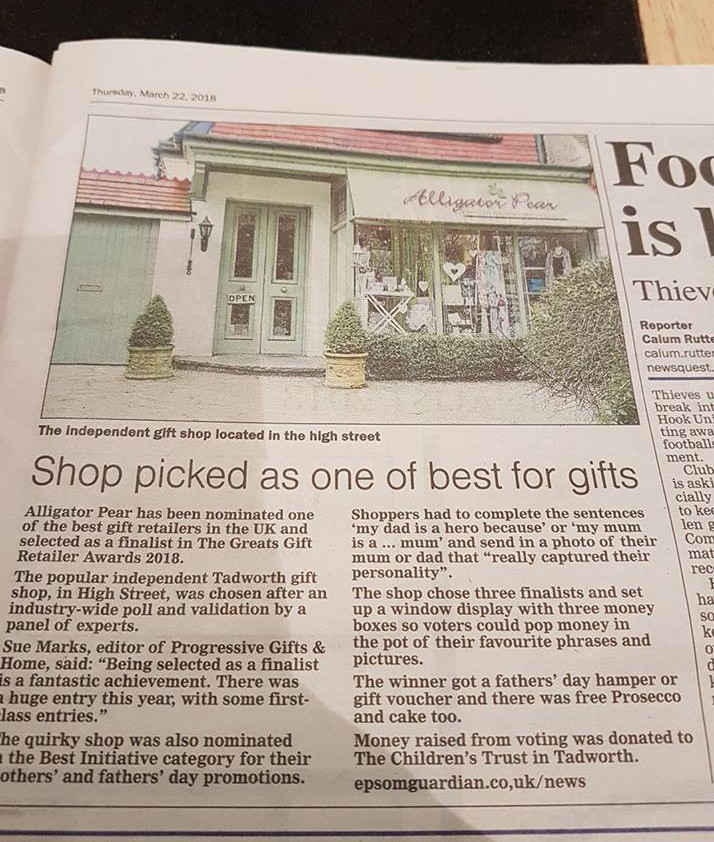 "The local newspaper, the Epsom Guardian, ran a story, as well as the KT Connections local magazine," enthused Maggie. "And we have also had a fantastic response to our social media posts promoting our finalist positions!" Adds Jo: "I'm still buzzing with the excitement of winning a Greats award. Making it into the local paper too has really been fantastic!"
Top: Amanda and Will Oscroft, owners of Love It, are shown at The Greats Awards in May with their prestigious trophy as winners of the Independent Gift Retailer of the Year East Anglia category.