Following a stellar career in the gift industry, to include being the man credited with taking Spring Fair from strength to strength, David Metcalfe will be retiring this year. Currently attending his 50thSpring Fair, GiftsandHome.net caught up with David to ask him to share some of his career highlights and show insights.
David, Spring Fair 2019 is obviously a very special show for you. How did you first get involved?
"At 20 years old, I had no idea what I was going to do for a career, so while I was deciding, I took a junior position with a small trade publishing company, among whose tittles was the grandly named Pottery Gazette and Glass Trades Review incorporating Tableware. Founded in 1877. It wasn't exactly what my training on the Economist had prepared me for, but I decided it would do until I discovered my true career path. They told me that I would have to go to a trade fair in Blackpool the following Spring. No, me neither, but I went along with it."
Can you tell us what the show was like back in the day?
"I don't know what I was expecting, but the Blackpool International Gift Fair wasn't it. It was a sprawling collection of companies exhibiting in hotel bedrooms all over the town, as well as in additional rudimentary stands in the Winter Gardens, and, worst of all, in a multi-storey car park, 'weatherproofed' by taping black plastic sheeting over the outside. Rush matting covered the oil patches on the floor, and the electricity supply was bundles of wiring like plates of spaghetti attached to pillars, which frequently exploded (!), with fine displays of sparks being thus produced. Anyone who complains about the NEC wasn't at Blackpool in 1969!
"The onshore gales meant that you could never get warm, and the appalling food meant that you would always be hungry. The only bright spots were Yates Wine Lodge for drinking, The Lobster Pot for a half decent meal if you could get in, and The Lemon Tree night club for, well, you can guess. Somehow though, it all worked, probably because there was nothing else."
Did you think you'd stay in the gift industry?
"No. I knew that this wasn't for me, but what I didn't know was that that was the last time I had any control over my career destiny. Shortly afterwards, the publishing company was taken over by a larger one which wanted to relaunch the publication as the more snappily-named Tableware International, bringing in a highly experience man to head it up. He turned out to be my mentor, Tony Pike, who appointed me as advertisement representative, and taught me how to do the job. I eventually became advertisement director ten years later and, as I was wondering what to do next, I got head-hunted to another publishing company called Maclaren where I enjoyed a reasonable amount of success. Subsequently, when that company was acquired by EMAP in1983, I was given my own group of trade magazines to manage."
We're curious! How did that career advancement lead to you onto Spring Fair?
"Again fortune smiled on me. When EMAP acquired TPS in 1987, I was sent to manage it. I was able to make an impact fairly immediately, thanks to my previous experience as an exhibitor at what was by then the International Spring Fair – I had exhibited at the last Blackpool Fair in 1975, and the first one at the brand new National Exhibition Centre (NEC) in 1976.
"I don't want to say that the rest is history, but it is. The ISF went from 5 Halls to 20 over the following years, and the International Autumn Fair was launched in 1991.
"As the NEC has grown, so has Spring Fair. It has been very rewarding to be able to re-plan the show to allow exhibitors to grow their stands to a size which match more appropriately to their increasing range size. The development of halls 17 to 20 was particularly rewarding as we had a private funding initiative with Birmingham City Council to get them built."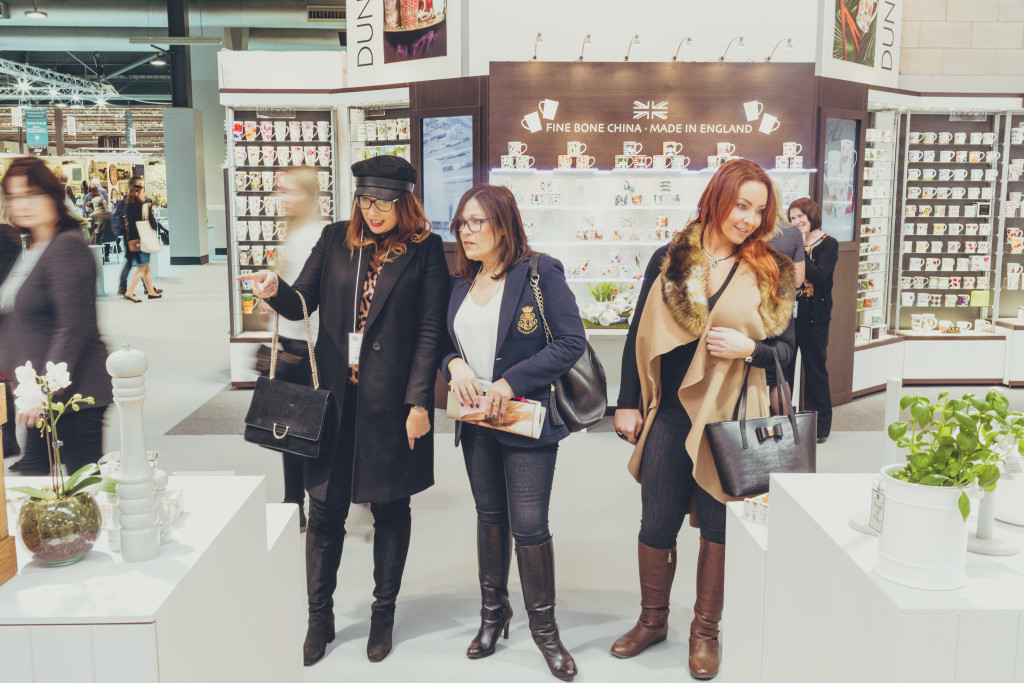 You must have seen a lot of products come and go over the years?
"This business is cyclical.  I'm waiting for the rocking flowers to come back! The ceramic decorations from the 1960s are really hot now, and there are echoes of the 1950s too. I wish I had kept my flares, although I would have to get them let out now! And, of course, the advances in technology are very apparent in the gift offerings that you see around the Spring and Autumn fairs."
Looking back over the past 50 years, do you have a favourite Spring Fair?
"There Isn't a particular favourite Spring Fair. Each one has had its highlights and tricky times. I always enjoyed entertaining the overseas press and some of the buyers. We have very loyal visitors.
"Plus, I have been fortunate to have had a brilliant team around me. Each member of the team earned their place. Organising the largest exhibition in the country takes special skills, and a highly trained team has them all."
You must have met some very interesting people along the way. Who impressed you the most?
"At Autumn Fair, we had the Prince's Trust exhibition which HRH Prince Charles attended. I'm a big fan, and when the time comes, he will make a superb King."
Looking back at your illustrious career, what have been your personal highlights?
"When I first came into this business in 1969 I was in awe of the lofty hierarchy of the industry. Eventually I became chairman of the Giftware Association in its 50th year, and later president of the British Jewellery and Giftware Federation – now the British Allied Trades Federation. That was the pinnacle of my career.
"Then I retired from full time work in 2007, and have continued as a consultant to Spring Fair and Autumn Fair up until this month, when I will be giving up work entirely. At no point did I ever feel that I was in control of my destiny, even to the extent of meeting the lady who was to become my wife.
"I have been incredibly fortunate to be guided by an unseen hand into an industry I love, met some wonderful people who have become lifelong friends. I still haven't decided what to do for a career!"
How do you think you're going to feel when Spring Fair closes its doors on February 7?
"This year's Spring Fair will be an emotional one for me, but when I leave, that will be a door closing. However, another one is sure to open. It always does!"
Top: David Metcalfe is pictured as yesterday's Spring Fair.